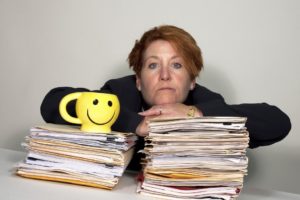 If there has been one common thread through all of the years I've been in business (I started in 2002) it's the topic of keeping or letting things go. Deciding what to keep and what to let go of, whether it's things, ideas and even people, tends to be very stressful for a lot of people. Many of the people I have spoken to about it express a sense of guilt or regret. There is often a lot of self-recrimination that goes along with it.
I should have done this.
I can't believe I wasted my time, and money, on that.
I should know better by now, I never follow though.
That was a great idea when I thought of it, if only I had done it, I wouldn't be in this situation.
It's too late for that.
While it may be true that things might be different now had you done or used something, the reality is that you are where you are now and holding onto those things, and the guilt associated with them, is not helping you or anyone else.
Here are seven of my favorite guiding questions, that I use to help my clients decide what to keep and what to let go of.
If you do this what won't you be able to do?
If you don't do this what can you do instead?
Is doing this the best way for you to achieve your goal?
Will you enjoy doing this?
Are you holding onto this idea out of guilt, or because you really want to do?
Is this your idea or someone else's idea for you?
Is doing this the best use of your time?
Letting go of things and ideas can be scary in the moment, but will bring a huge sense of relief, and opportunity, once you have done it.