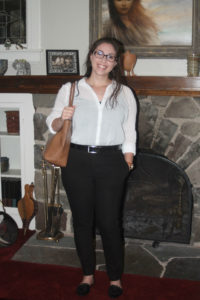 After 20-years of formal education Sammi has officially entered the work force. She started a job with a company called Story2. At their core, Story2 is a communications company. They help people convey their message through writing. She was hired as their Sales and Marketing Coordinator.
Here's her "first day of work" picture. She's going to be working hard, learning a lot, and having fun. I'm incredibly excited for her.
When Goal Setting Works
When Sammi decided to go to school for one more year to get her master's in Management last August, her stated intention was to have a job when she graduated and start working during first week of June.
She responded to many job postings on Linked In, she worked with a career coach, and she networked. Several interviews that didn't pan out followed, and she had contacts disappear on her, and even got a job offer that was completely out of line with anything she wanted to do.
But, she kept going until the right thing came along at the right time. And while reaching her goal didn't look like she expected it to – she did not have a job lined up when she graduated, she landed a job the following week and started working during the first week of June, exactly like she planned.
Are You on a Path to Reach Your Goals This Year?
So why am I telling you this?
It's June. In just a few weeks the year will be half over. What was your stated intention on January first? How are you tracking towards it? Have you made the contacts you wanted to make? Have you been doing what you need to do so that you meet your goals?
Like Sammi your goal may not be 100% in your control, but ask yourself what parts of that goal can you control? What can you start, or maybe stop, doing immediately? Who can you reach out to for support? What connections can you make, so that in just over six months you can look back and say – it may not look the way I expected it to look, but I hit my goals.
What goals are you aiming for? Let me know by leaving a comment below.