One thing I committed to earlier this year was to read more, specifically non-fiction.
I enjoy reading but only seem to "get around" to fiction (I recently finished Dan Brown's
The Lost Symbol, The Orphan's Tale
by Pam Jenoff and
The Handmaid's Tale
by Margaret Atwood).
Back in February I decided to commit to reading one chapter a day. I quickly found that it didn't work for me. Some chapters were way too long, and others too short. I shifted my commitment to 20 minutes a day. That's been working much better. So far this year I've read,
Do the Work!
and
The War of Art
, both by Steven Pressfield.
Keep it Simple
, by Joe Calloway,
The Code of the Extraordinary Mind
, by Vishen Lakhiani, half of
Jump Start Your Business Brain
, by Doug Hall (it's very good, I'll be back to finish it), and
I'm currently reading Show Your Work! by Austin Kleon.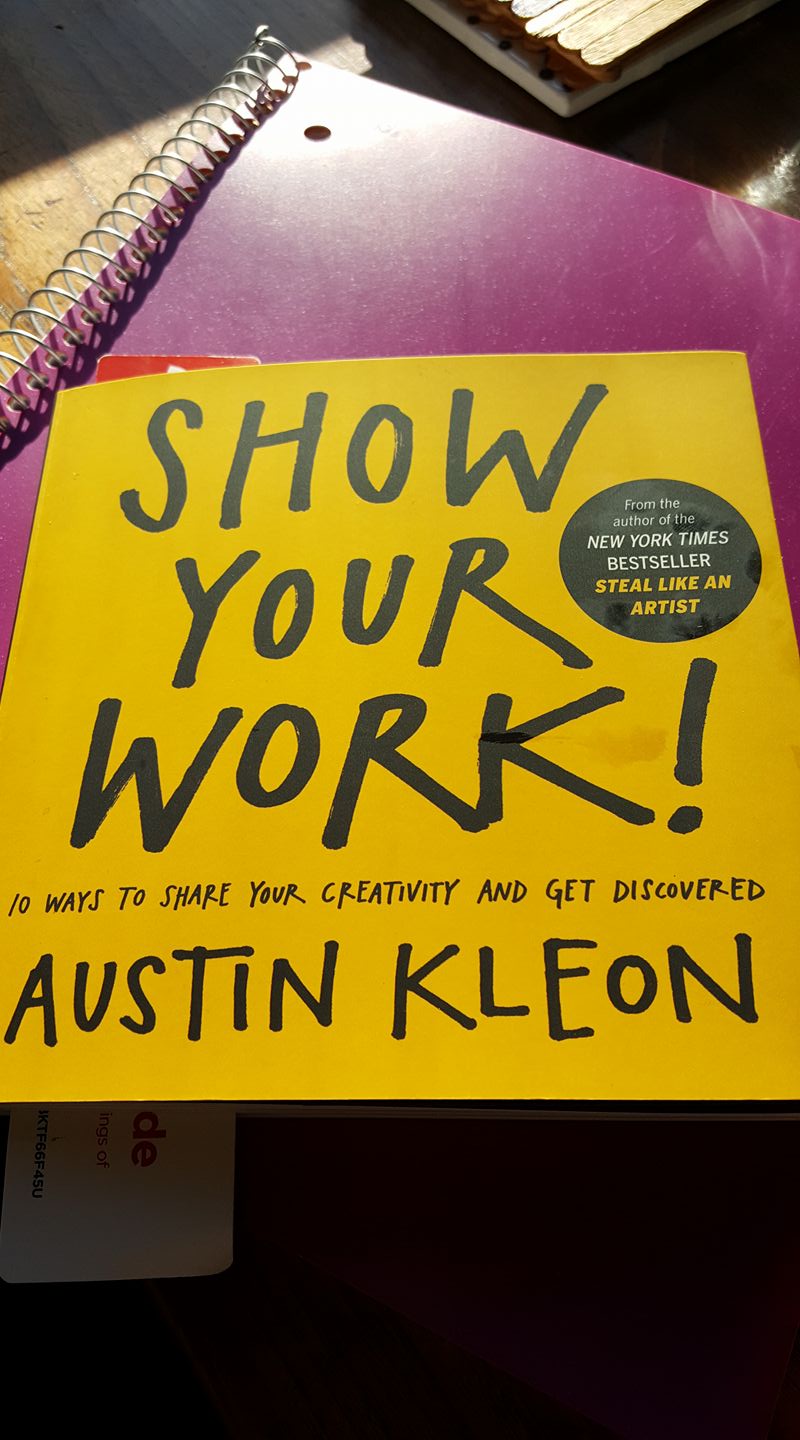 In
Show Your Work!
, Kleon shared
a quote by Paul Arden that jumped out at me. "The problem with hoarding is you end up living off your reserves. Eventually, you'll become stale. If you give away everything you have, you are left with nothing. This forces you to look, to be aware, to replenish…Somehow the more you give away, the more comes back to you."
For years, I have said
when you let go of one thing you make space for something else
. This is especially true with ideas and plans. For things you're actually working on, the tighter hold you have on them, the less likely they'll be released into the world. When you do let the projects you are working on go, you give them the opportunity to grow, to morph, to shift.
When you let go of something, it gives you permission to focus your attention elsewhere.
Shortly after I started my business in 2003 I found myself hoarding
. I kept ideas in a pile on my desk. I'd see something online that was a good idea, I'd print it out and add it to the pile. I'd see a course I wanted to take, an idea for an article I wanted to write, or maybe an idea for a program I wanted to create, I'd print it out, or jot it on a piece of paper, and add it to my pile. The pile steadily grew.
This pile represented potential revenue.
It was not actual revenue because I hadn't done anything with it.
I added to the pile for months. One day I had enough. It was time to do something. I went through the pile and made decisions. In the end, I put three pieces of paper aside. I took the rest of it, my trembling hands, and threw them away.
As to those three pieces of paper? Two of them were quick and easy, I don't remember what they said. The third piece had two words on it, Declutter Day. It was an idea I had for a program. I decided to make that program a reality, and you know what?
Everything I've done since then in some way relates to it.
Had I not done the work to figure out what "declutter day" meant and looked like, my business would not be what it is today, neither of my books would have been written, and my clients would know a very different person.
I have no idea if I picked the right piece of paper that day. What I do know for sure is that if I didn't decide what to focus my attention on, nothing would have happened. I needed to give the rest away.
Here are a few of the questions I used to help myself decide what to keep and what to let go of as I went through my pile of ideas. See if they help you too.
If I don't do this, what can I do instead?
When will I REALLY do this.
If I do this, what won't I be able to do?
Can I achieve the same result in an easier, or more enjoyable way?
Is this something I want to do, or something someone else wants me to do?
Go ahead, clear your to-do list. Give yourself permission to let go and you'll be amazed what you will be able to bring in. What are you letting go of? What are you going to keep? Let me know and share your thoughts in the comments section below.