You know the feeling when every fiber of your mind and body says no, and yet you know you have to do it? Goal setting can be like that.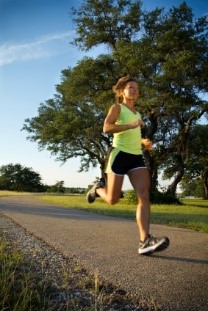 That's what happened to me earlier this week because of a Facebook post.

About a month ago I went for a run. I hadn't run in a while and was barely able to run 1.5 miles – half of what I used to do. I made a promise to start to run regularly, two times a week, and get back to running 5k (3.1 miles) regularly.

Last Tuesday I did it. I ran 5K. It was the first time in well over a year. I posted my results on Facebook along with this comment "Hit my goal…to be able to run 5k again. Does that mean all my runs from now on have to be 3 miles or more?" I was only half joking.
Keep Setting New Goals
A friend of mine commented on my post. He said that I should add a mile a week and bring it up to 10K. Every fiber of my body said NO! I hit my goal. I did what I said I was going to do. Can't I just be satisfied with what I did? Besides, I don't particularly like to run. Why do I have to do more?
Over the weekend I set out for my second 3.1 mile run of the week. I found myself thinking, there is no reason for me to do more. I didn't want to do more. It's okay to stop. 3.1 miles is hard enough, why am I even thinking about doing more? I found myself getting mad at my friend for even suggesting that I do more.

I ran 3.4 miles and this is why.
Every "legitimate" reason I had not to do it was an excuse.

A friend challenged me, and with some work I knew I was capable of it.

I was scared.

I had no real reason not do it.

If I don't push myself beyond my comfort zone why should any of my clients push themselves beyond their comfort zones?
Here's my updated promise.
I will continue running two times a week. I will run 10K regularly by Labor Day.
>>Keep Reaching New Milestones
Did you know that fear and excitement feel the same in your body?
I find myself wondering – am I scared or excited? At this moment, sitting safely at my desk, I choose to be excited. Let's hope I feel the same way next time I'm on the road.

What I find most fascinating about all of this is that the same thinking applies to every area of your professional and personal life.

Think of something that's been on your mind, or suggested to you, that you've been avoiding.

Why have you been avoiding it? Is it something that's not right for you, or something that you know is the right choice, but you're afraid of for some reason?

What would it take for you to engage with the challenge?

I'm going to run 10k before the end of the summer. What challenge are you going to take on? Click here to share your thoughts, and make your commitment public in the comments section below.